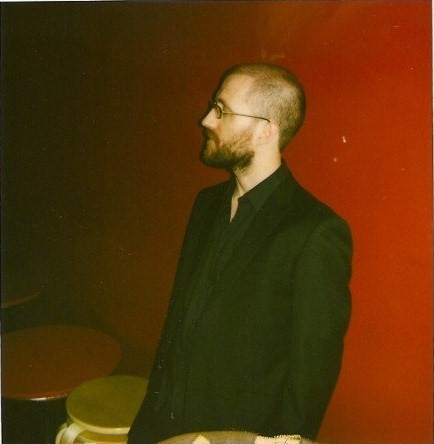 A precocious pre-pubescent, Kieron wrote his first journalism in a self-published pen-and-paper booklet laboriously hand-copied and sold on his suburban cul-de-sac to a readership of hectored neighbours and street kids. Later, inspired equally by the irreverent anarchism of Amiga Power and prime-cut Melody Maker, he progressed to writing Hatezine Darcy's On The Pull. As part of the International Pop Underground his work resulted in him being slapped around the chops by some of the leading figures in post-Bis Glitterpop.
Having no real measurable talents and fearing his family trade of lifting of heavy brick-filled hods, he decided that he should turn his hand to word-whoring. He soon found gainful employ in Britain's leading PC videogame magazine, PC Gamer. Eventually he went freelance: let's just say his writings have appeared in every respectable videogame magazine in the land and most of the – er – disrespectable ones too. He won awards, coined the phrase New Games Journalism and in 2007 formed the world's most respected Games blog, Rock Paper Shotgun. In 2010, on his 35th Birthday, he retired from the frontlines of journalism and left his RPS-colleagues to press on without him (except when he can't help writing thousands of words about random indie nonsense). He was to spend more time with his family.
Except for "Family" read "Comics". His efforts are divided between arty credible ones which will make girls nod sagely and find him more attractive and things with zombies and machine-guns. It's something about the duality of man. His work which he's most closely associated with is Phonogram, which he produced with Jamie McKelvie and has been received with the correct mixture of rapture and bemusement. This has been joined by their celebrated run on YOUNG AVENGERS and their current actual-sales-hit-WTF? THE WICKED + THE DIVINE.
On the more commercial side, he's been writing for Marvel since 2008, and has pretty much played with all the major icons now, for at least a panel. His comics include THOR, JOURNEY INTO MYSTERY, UNCANNY X-MEN, IRON MAN and many more. His Marvel work for 2015 include DARTH VADER and ANGELA. At Avatar Press, he is writing the incredibly serious WW2 superhero book UBER and MERCURY HEAT. His other works for Image include Spartan Slave Hunt story, THREE.
If you're interested in the full array of what's been collected, I'd direct you over to my Amazon.com's Author's page. All of them are available to buy with pretty coins.
Some say he's a genius. Notably, none of them are.