And lo! I get Uncanny uncancelled. There is no limits to my powers. I'm like Jesus and Lazarus, except if Jesus offed Lazarus first.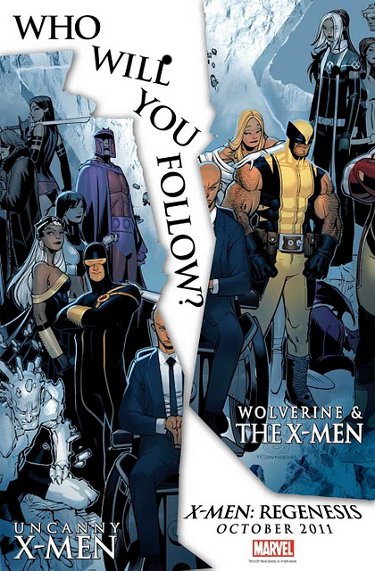 AP broke the news about the post-Schism plans of Uncanny. Relevant quote:
In what the publisher is calling "X-Men Regenesis," two separate teams calling themselves the X-Men will take root this fall with the respective series — "Wolverine & The X-Men" due in October and "Uncanny X-Men" starting in November. They will feature a divided roster of former friends and colleagues under decidedly different leadership and boasting competing goals.
Jason Aaron will be writing WOLVERINE & THE X-MEN with Chris Bachalo.
I'll be on UNCANNY X-MEN with with Carlos Pacheco and Greg Land.
We give the very-early basics – because there's only so much we can really say until Schism plays out – over in the piece at Marvel.com. I explain the very rough direction of the book. Here's the main quote…
"To use a word, it'd be 'pugnacious,'" says the British writer of his cast. "It's an X-Men team in public, operating on a scale we've never seen them act on before. Traditionally, the X-Men have mainly been about problems coming to mutantkind. They fight against foes who want mutants gone; the problem being [that] those victories just maintain mutantkind."

"Over the last few years—mainly in the adjectiveless X-MEN book—we've seen the X-Men try and act more like super heroes. The idea being, we act like super heroes, maybe people will start feeling better about us. And it's worked a bit; they're certainly not hated in San Francisco as much as most of the world, but that's a town. That's region-based heroism. To change the world, they have to act on a world scale. That's what they're trying to do. UNCANNY X-MEN is the team aspiring to be the world's premier super team and everything that goes along with it."
Though there's more in the interview, including a shameless Buzzcocks namedrop.
There will be much more about this, in the short term with a few more interviews and in the long-term as the nature of the Schism, the exact nature of the team's separate purposes and the make-up of the teams come to light. For the latter, I'd warn anyone against taking the promo image in too literal a fashion. I suspect there will be more than a few surprises, unless you've broken into my house and read my scripts, in which case there will be no surprises and you're a cad.
I've mentioned a few times my vague YEAR ONE and YEAR TWO plan for what I'm doing with the X-men. You probably have guessed that UNCANNY X-MEN 1 is the start of YEAR TWO.