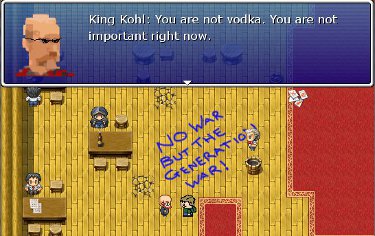 Games Journo Story was mailed to me by about half-a-dozen people when I was away. I suspect I didn't need any of them. If you could safely predict any one game I would play in 2011, it'd be it. As Chris Thursten notes in his own splendid response to it, "You might as well post it to RPS yourself and cut out the fucking middle man." Like, totes.
It's by Brendan Caldwell, it's made in RPG maker and it's the autocritical/automythology fictionalisation of his trip to the Eurogamer expo in 2010. It features several prominent games journos, including yours truly as basically the end of game boss. Brendan's a wannabe journalist, working for semi-amateur places and this is about… well, it's about what it's like to be leaving university late last year and wanting to do something. As such, it's simultaneously completely written for a very small audience (i.e. total devotees of British games journalism) and also one of the most timely pictures of what it's like to be young and angry in 2011. The feelings, I suspect, are universal enough for anyone who wants to do anything creative and realises how the odds are stacked against them to get something from it.
In terms of my younger friends, it's the sort of thing which exists equally in Quinns and Laurie Penny's worlds – and, as such, reminds me that they're the same world, and we're all living in it.
(It also reminds me how lucky I was back then. I've been planning to write about how I suspect if I was a 21 year old trying to get into games journalism now, I'd be screwed. But that's another piece.)
It's punky and scrappy and shooting from the hip. It reminds me not of games, but zines – in that it's an entity that exists to cram in as many ideas of possible, stinking of the energy bored of fear, desperation and hunger. It's throwaway, but only in the same way a hand-grenade is throwaway. You can get it here, and if you're unaware of Brendan's writing, I'd suggest starting here and here.
How do I feel about my portrayal in the game? I suspect I feel a little like Haines felt about Phonogram. As in "Yeah, I know this is the sort of response I wanted, but it's still pretty fucking weird".
Brendan nailed my attitude to vodka though.
*****
I liked this review of the S.W.O.R.D. trade (And not just because it's a 4.5 star out of 5 one). I've been thinking about S.W.O.R.D. a lot recently, and what I did "wrong" with it, but Raoul reminds me that we actually did a lot of things right. It remains something I'm proud of having done.
*****
Oh – and Can Y. draws the line between Amanda Palmer and Phonomancery. Dresden Dolls totally did get a shout out in Singles Club. People often ask me "would any musicians be phonomancers?" and, yeah, I'll put Palmer on the list.