Well, at least in the US it is. Who knows when the issues will actually reach the UK? Not I.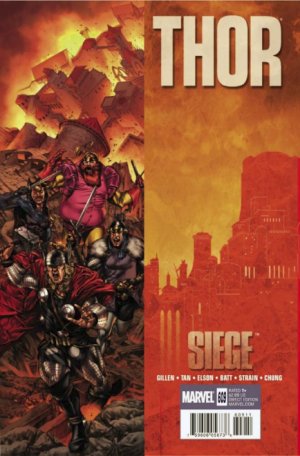 Thor 609 is out this week. No reviews yet, but there's a preview here. You may note that the cover's changed from what's solicited – which was moved to Thor 610. That's because the Thor/Ragnarok fight is actually there – after the end of Siege – and this is something else. And I won't say anything else.
Well, about Thor 609 yet, anyway. News broke of Thor 611's new cover and solicit yesterday, and the previously solicited start of Fraction/Ferry's run is – to quote Tom Brevoort – moving back a few issues. I'll do a post about all the solicits shortly, which I'll give some more info. In short, Thor in Hell. Those who've been following my run may be able to have a rough guess what his Busman's holiday's connected to. In short, I'm very excited by this arc. I've got hopes it'll be the definitive one of my time on Thor.
Oh – and Solipsistic Pop 2's launch party tonight at the cross kings. Yays!