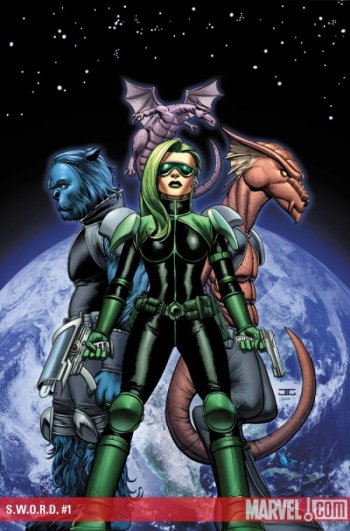 News broke over the weekend that S.W.O.R.D. will be ending with issue 5. But it's not all bad news – that means I won't have to type those periods any more.
More seriously, as I said in interviews, I did plan for the structure to telescope. The first five issues are a neat little arc, which will collect into an agreeably intense little trade. It was planned so if the worst did happen – and launching a new ongoing in the current market is an enormously risky business – that it would hold together and wouldn't leave anything dangling. I haven't changed a panel in 5, basically, and I'm pleased with where I leave the cast.
I've been also very touched to see fans of the book get motivated to mail Marvel a Valentine-note. Even before the cancellation, as the sales charts which had been released had raised people's ire – even Death's Head. While cynics have noted, it's unlikely this sort of activity will magically get S.W.O.R.D.'s run extended. But it's not just about that. Letting a publisher know they released a book which people liked and had an audience is always worthwhile. As others have noted, if you dug it, it's worth being grateful for five issues.
There's the other thing, of course. Comics operate on a system of pre-ordering. As in, the first issue's orders were in before anyone had even read a single page of the book. The numbers which people are reporting are low enough that the inevitable second issue dip – also ordered before anyone had read issue 1 – would move it into a clearly dangerously low sales for a book in the X-family. In other words, I actually don't feel that bad about the cancellation. It was already on unsteady ground before anyone had even read the thing, and got annoyed over Sanders' beast design or my over-verbal theatrics.
In other words, people being vocal about their like of a comic isn't really just about trying to save S.W.O.R.D. – it's about making it clear that this was a book you were interested in, and encourage editors and publishers to think about books in a similar part of the emotional terrain and then work out a way to sell 'em. It was an odd little book, and I was proud to write five issues of the blasted thing. I'm glad that there's enough people to dirty up the Internet over the weekend who felt likewise.
Lots of people writing nice stuff about Issue 3 too. First two I can find with a quick google are Chris ISB making it his pick of the week, Comics Daily doing their thing and IFanboy doing their pick of the week show with it as the star attraction. Oh – and the MOMBcast too.
Also – Sanders' Issue 5 pages. SPACE UZI! SPACE UZI!
I'll rest now.