Yes, I've got two comics out this week, but we'll worry about that on Wednesday – much like I'll be worrying about my Christmas Shopping.
("How do you do so many things at once, people ask. Because I'm an inhumane monster who will clearly die alone, natch).
March is a big one, where I have – crikey – four comics out from Marvel. Two one-off issues, and two of the regular ones. Solicits are here , here and here if you want to read them all. New ones first…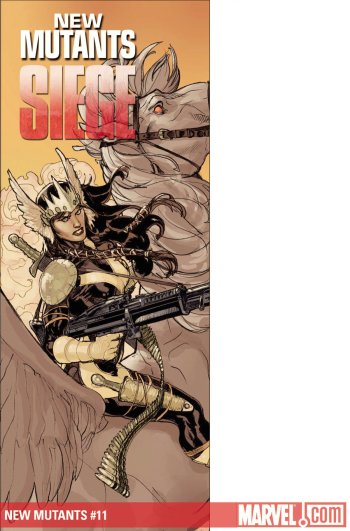 NEW MUTANTS #11
Written by KIERON GILLEN
Penciled by NIKO HENRICHON
Cover by TERRY DODSON
SIEGE BLOCKBUSTER TIE-IN!!
Back in DARK AVENGERS/UNCANNY X-MEN: UTOPIA, Dani Moonstar made a deal with Hela.
Now, the mistress of Hel is calling in her marker. With all the Asgardians falling in the Siege of Asgard, someone needs to deal with the dead.
And who better to do so than a Valkyrie. But where is Dani supposed to be bringing these dead? Brought to you by a guest creative team of Kieron Gillen (THOR, S.W.O.R.D.) and Niko Henrichon (PRIDE OF BAGHDAD).
32 PGS./Rated T+ .$2.99
Where I fill in for a month for Zeb Wells to tie into Siege. This one will be fun, I hope. While obviously it's its own thing, it's especially linked to what I'll be doing over with Thor. In fact, if you've been reading any of the masses of mythological stuff I've been doing for marvel, it's very much in that vein.
I also have crazy love for Mr Dodson's cover. Valkyries should have machineguns. Ares would swoon. In a very manly fashion.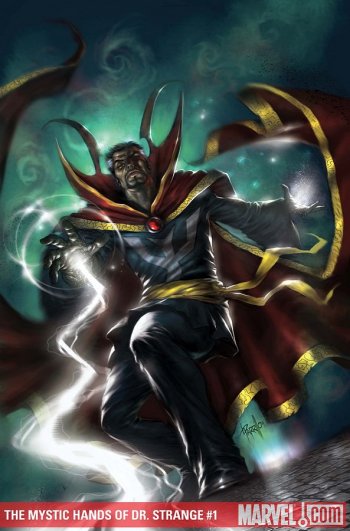 THE MYSTIC HANDS OF DR. STRANGE
Written by KIERON GILLEN, PETER MILLIGAN, TED MCKEEVER & MIKE CAREY
Penciled by FRAZIER IRVING, FRANK BRUNNER, TED MCKEEVER & more!
Cover by LUCIO PARRILLO
It's the Sorcerer Supreme versus the magical might of the political terrorist known as the Doktor! Stephen Strange struggles with a decision to help a man crippled by his worst memories! And the Master of the Mystic Arts battles a demon in the streets of New York! All this and more in this all-new, all-action, all-black-and-white one-shot in the spirit of the Mighty Marvel Magazines of yore, but ALL-NOW in style! The magical mayhem never lets up for a moment over these four stories by some of Marvel's hottest creators!
48 PGS./Black & White/One-Shot
Parental Advisory …$3.99
This should be fun. Retro-format, black and white, lots of content and some of my favourite creators. My one is the first one mentioned, with comrade Frazer Irving on art. It's quite a hefty one, being 22 pages and totally inspired by my reading around 1970s German Terrorist groups. Luke Haines ruined me.
Frazer, of course, was born to draw Doctor Strange. I'm very much looking forward to seeing what he does with it.
And ongoing books…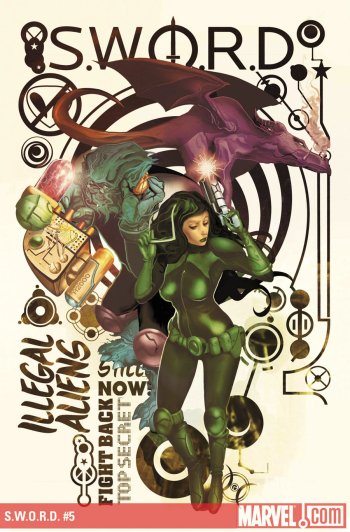 S.W.O.R.D. #5
Written by KIERON GILLEN
Penciled by STEVEN SANDERS
Cover by MIKE DEL MUNDO
With Agent Brand imprisoned, all hell breaks loose! Norman Osborn and the Dark Avengers set out to destroy a group peaceful aliens while a war-like race is about to unleash the most intelligent and dangerous being in the universe! Now Brand herself is about to walk in a trap that could spell the end of everything she's worked for.and her life!
32 PGS./Rated A .$2.99
Oh noes!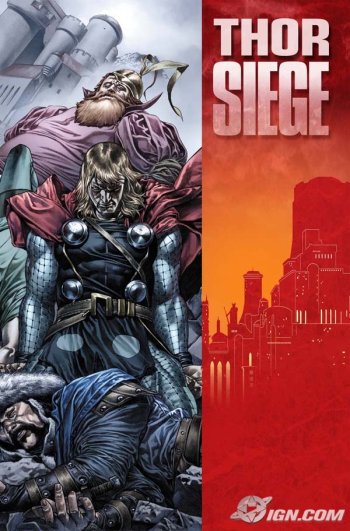 THOR #608
Written by KIERON GILLEN
Penciled by BILLY TAN
Cover by MICO SUAYAN

SIEGE BLOCKBUSTER TIE-IN!!

War has often come to Asgard before.but never like this! As the Shining City suffers the most brutal earthly attacks in its history, Thor and his allies fight to stay alive and save what they can! Might be a lost cause.

The critically acclaimed breakout THOR run by Kieron Gillen (DARK AVENGERS: ARES) and Billy Tan (NEW AVENGERS) barrels on strong and takes turns you won't want to miss!
More oh noes! Does nothing ever go right for the superfellows?
Siege makes me excited.
******
There's been a load of reviews over the last couple of weeks, which I've got in a document, but would make a terribly listy post. So we'll cherry-pick a little. SWORD 2? CBR liked it! IGN liked it! Comics Daily liked it! Newsarama Liked it!
Phonogram 2.6? CBR liked it! IGN liked it! The Outhousers liked it! Comics Bulletin Liked it! The Buy Pile? Liked both SWORD 2 and Phonogram 2.6. Comics Should Be Good? Also liked both SWORD 2 and Phonogram 2.6.
Someone should totally do a metacritics for comic reviews. It would save me a lot of cutting and pasting.
*****
I've also been a yappy puppy. CBR interviewed me about by Thor run, which I think is probably my favourite one so far – previously, I've been trying to avoid spoiling the end of JMS' run, but now I can just run my mouth off. Oh – and they've announced that Matt Fraction is following me, which is an enormous relief. That is, it's an enormous relief that I have one less secret to keep. Matt's one of my favourite writers, and is born to write Thor.
I've also talked about Lockheed kicking all and sundry's ass over here.
And that's enough for now.