Well, that went pretty well.
The responses were mostly the array I was expecting. A lot of people seemed surprised by the tone, as they were expecting – to steal a line from a commenter – something more Warren Ellis and less Joss Whedon. But yeah – there was a reason "His Girl Friday" was at the top of the list of influences. I think I finally got my interview-style for S.W.O.R.D. nailed down in the new one I did for Newsarama, which sort of gives the best taste of the bally thing.
And the positive reviews were – generally speaking – enormously positive. To take a selection of the less spoilery ones…
Newsarama: "It really is a cut above the rest"
Chris ISB: "I think S.W.O.R.D. is great."
Comics Daily: "SWORD trumps both Batman & Robin and the writer's own Phonogram to deliver this week's essential purchase."
Paul O'Brien, House To Astonish: "The dialogue is great."
Greg Comics Should Be Good: "I certainly hope that it smashes sales records and Gillen gets to write it for the next decade"
The Pull List: Pull Of The Week.
Dave Ferraro:"I'm definitely onboard after this strong debut issue for what seems will be a pretty amazing book."
Fantastic Fangirls: "I highly recommend checking out SWORD #1."
Panels on Pages: "I'm going to stick with the book for the foreseeable future, as I really enjoyed the first issue "
Funnybook of the Week: Funnybook of the week.
Richard Bruton, Forbidden Planet International: "S.W.O.R.D. begins very well indeed — fast, witty, silly, big sci-fi stuff with the characteristic scattershot dialogue of the Ellis, Whedon school of superhero sci-fi writing."
Also, there's been quite a few podcasts talking about it. Awesomed By Comics! 11 o'Clock Comics! Monkey On My Back! And a tiny splash in the ever-splendid Ifanboy.
Crikey. That's enough linking. My Cut and paste skills are fading.
What's people's problems with it. Putting aside the people who just don't like tone – c'est la vie – the thing which is popping up a lot is Steve's art style generally and his Beast design specifically. Well, I'll give you that it's a radical take on Quitely's design. But, in case you've forgotten – and when as determined a Morrison fan as Tim Callahan has forgotten, it's probably worth reminding people – Quitely's beast looked like this…

The guy had a snout. Most artist are minimising the snout, or even removing it entirely. Sanders is a little unfortunate that he maximised the snout when most other people went the other way, but it's not nearly as radical a diversion as people are presuming. It is a little unfortunate that Mr Cassady's take on the cover is at one extreme of the interpretations and Steve's is at the other. And Beast has… well, as some has noted, has always wandered a little. Going through issue 3's pencils right now, I think it the design will only grow ever more convincing. This is hyperstrong stuff.
Alternatively, as a lovely gent on the CBR forum put it…

Which does make me smile.
What else? Well, wrapping SWORD 4's script up this week. Gets stronger ever issue, I think, unless I blow this one near the end. At least 3 is splendid. PG2.5 is out this week – in fact, was gettable last week if your local shop felt like doing it, as Rich Johnson reports with some hilarity . And my fourth Thor issue's solicit and cover is live.
Oh – and issue 4 of SWORD's one too…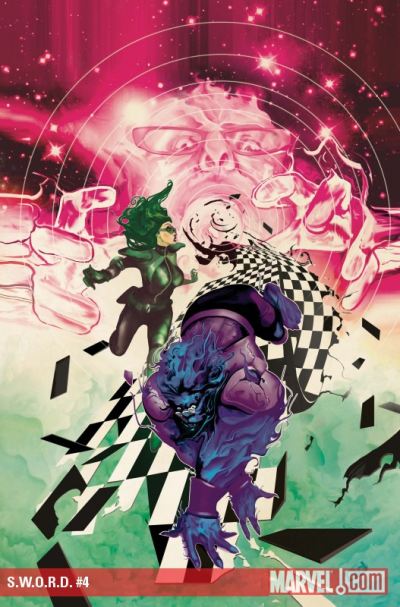 Which is also splendid. I'm big on the word "splendid" today.
Oh – as a final note, when going to CBR I find an interview with Jamacia Dyer's Weird Fishes. I've loved her work when she was back in her Kitchen Sink days. I'd somehow fell out of following her, but I'm very excited to see that she's got a book out – WEIRD FISHES from Slave Labor, which is a collection of her webcomic. Which begs the question why I wasn't reading it. I don't know. I must have been insanely busy for the last five years. I'll make up with extravagant compliments now.
This is insanely beautiful insane stuff. Go read!