This has just been mentioned in Mr Joe Quesada's regular Cup Of Joe…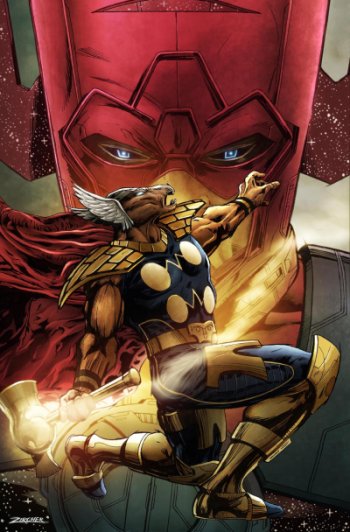 JM: And another look into the future: June sees Beta Ray Bill: Godhunter, in which Beta Ray Bill gets the idea to hunt and kill Galactus. It's a three-issue mini-. What the impetus behind pulling Beta Ray Bill into a series of his own?

JQ: Well, we had a lot of great fan feedback about Beta Ray Bill's appearance in Secret Invasion: Thor, and he's one of those characters that fans seem to have a real affinity for. But the story itself — Beta Ray Bill is on a mission to hunt and kill Galactus — is going to be packed with action and a helluva lot of fun. Three-issues by Kieron Gillen and Kano, with covers by Patrick Zircher!
I suspect I'll talk more about this nearer the time, but after I wrote BETA RAY BILL: THE GREEN OF EDEN Mr Warren Simons asked what direction I'd take Bill in next. And, for once, my ideas could be summed up really succinctly: Beta Ray Bill has to hunt and kill Galactus.
Which is, for those who don't know Galactus, proper mental.
Cue trouble!
You have no idea how much fun the phrase "BETA RAY BILL: GODHUNTER" is to write. Comics continue to be awesome.