The Marvel solicits for July have gone up at newsarama, revealing amongst many other pieces of fine comic product, the following item…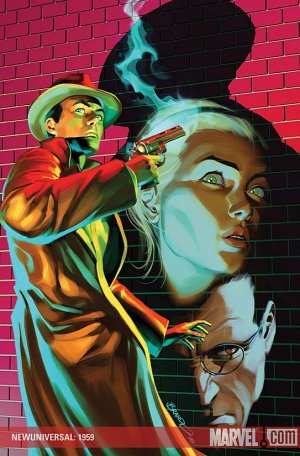 newuniversal: 1959
Written by KIERON GILLEN
Penciled by GREG SCOTT
Cover by BRANDON PETERSON
This is a story about killing the future. 1959 is the dawn of the new age of superheroics—the so-called "Fireworks" have granted superhuman powers to three Americans, and set the world on a collision-course with destiny. But it's a destiny Philip Voight must prevent at any cost. The first newuniversal one-shot expands the mythos of this world, thanks to writer KIERON GILLEN (Phonogram), hand-picked by newuniversal's Warren Ellis, and the brilliant art of GREG SCOTT shows us the world, like it never was.in 1959.
48 PGS./Parental Advisory .$3.99
*******
Which is lovely.
I'll be saying more about this at a later. If you're not aware, newuniversal is Warren's reboot of an old 1980s property. It's in the serious approach at Superheroes subgenre – if you're not a comics reader, the most obvious reference would be Heroes. In other words, no costumes, no wackiness, real emotional reactions to the unreal, real stakes, real decapitations (It's got that Parental Advisory sticker for a reason). It's one of my favourite current comics in the genre, so it's been amusing going and adding my own spin on a little corner of it. And it's a novel experience getting money for writing comics too.
If you want to order it, you can ask your friendly neighbourhood comics chap to do so. If you haven't actually read any newuniversal, the first six issues are currently available in a trade, and the second series is just underway if you want to join. If you just want to buy it, however, it's actually a self-contained thing. And… oh, that's enough for now. I'll be rabbling about it soon enough.
People have been asked what it's like being hand-picked. It's not quite as sticky as you'd expect.